Best Affiliate Program for Web Hosting
I'm Jerome Udoh, and you will be spending the next few minutes with me here in this article. I will be teaching you as much as I can about best affiliate marketing for web hosting, as a coach & as a friend.
So, before we do that, let me quickly give you my background & then we will start learning everything there is to know about affiliate marketing.
I'm one of those people who does just a few things, but I do them with a full heart. I love blogging & have always had a passion for making this world a better place since childhood. I never would have imagined in my wildest dreams that I would become a professional blogger. To be honest, until 2015, I didn't think it was even possible to earn money online.
I was awestruck when someone sent me $10 via PayPal for a task I performed online. That changed everything. At least, my notion of earning money online was changed. Let me stop there for another day let's go straigth to the point.
Get a copy of this book to get started
What is Affiliate Marketing?
Affiliate marketing according to Wikipedia is a type of performance-based marketing in which a business rewards one or more affiliates for each visitor or customer brought by the affiliate's own marketing efforts.
An affiliate is quite similar to an online sales agent. The duty of an affiliate is to promote and sell products from vendors. Affiliates get paid in commissions from each of the sale made. It's a low-cost business that could bring big profit when done the right way.
To further understand affiliate programs, let's consider an example — Bluehost is a Web Hosting company, is a website that provide domanin name and hosting services to website developers. Bluehost largely earns commission based on affiliate relationships with clients. Read this guide to fully understand what affiliate marketing is all about.
Best Affiliate Program for Web Hosting
Before we start the full list of the best web hosting affiliate program, read the DOS AND DON'T OF AFFILIATE MARKING HERE. You can also see others affiliate program here without stress.
WHAT DO YOU LOOK FOR IN HIGH PAYING AFFILIATE PROGRAMS IN 2021?
The first two things to look for are commission rates and average order value (AOV). Remember, high rates x high average order value = more affiliate revenue. Next, look at the cookie duration and potential earnings per click (EPC).
Here are four things to look for in the best high paying programs:
1. COMMISSION RATE.
The percentage of a sale that's funded by an advertiser to an affiliate for referring a new customer. This percentage can range from the low single digits up to 50% or higher.
2. AVERAGE ORDER VALUE (AOV).
The average dollar amount spent every time a customer completes an order. To calculate AOV, divide your total revenue by the number of orders.
3. EARNINGS PER CLICK (EPC).
The income an affiliate earns for each click to an advertiser's website from an affiliate link. This definition is a little misleading as the true definition of EPC calculates the amount per 100 clicks.
4. COOKIE DURATION.
A cookie is a value stored on an end user's computer and is used to track affiliate sales. The duration is the length of time the cookie stays on the computer after clicking an affiliate link. For example, with a 30-day cookie duration, this means that if a user clicks an affiliate link and makes a purchase within 30 days, the affiliate receives credit for the sale.
There's no point in making a 5% commission on a $10 pair of socks. That's only $0.50.
Alternatively, it would be much better to earn an 8% commission on a $1,200 treadmill and make $96. Since your affiliate website can only generate so much traffic every month, you should promote affiliate products that provide an EPC.
Finally, the last metric to look for is a lengthy cookie duration. Standard cookie durations are typically 30 days. You can find programs as low as seven days and as high as 90+ days. Longer cookie durations are a standard feature of programs I recommend.
Remember, you want high payouts, high AOV, and long cookie durations.
Below are the list of are the World BEST AFFILIATE PROGRAMS OF 2021 for Nigerian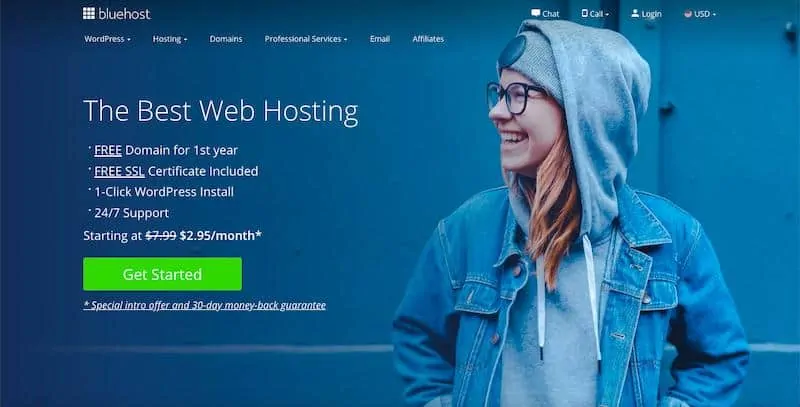 The Bluehost affiliate program is super popular in the web hosting space. With their plans starting at $2.95/month and one-time payouts starting at $65+, the cost barrier is low, and the commissions are high.
Because of this, they are one of the convenient ways for affiliate bloggers looking to make money online.
After you sign up for their program, you get credit for referrals up to 45 days after the first click. Payments occur between the 16th and the end of each month, and you'll need at least $100 to release your payment.
By promoting Bluehost, you'll enjoy high conversion rates and have access to text links and banners to help them quickly. Their affiliate managers provide excellent customer service, and they are my #1 overall pick and come with my highest recommendation.
And if you still need to launch your affiliate website, click my link below to get 63% off your Bluehost plan. 
Hostinger is another popular web hosting platform that can offer affiliates up to $150 per sale on a tiered pricing structure.
The Cloudways web hosting affiliate program offers high payouts, long recurring commissions, and three flexible payout models for their affiliates.
For one-time payouts, you can either earn up to $125 per sale based on your performance tier. Additionally, you can use their hybrid model and get $30 per sale plus a 7% monthly lifetime commission for the life of the customer.
Cloudways provides its own real-time tracking for its affiliates, with a performance dashboard that shows clicks, conversions, and other detailed information.
They also have excellent account managers (whom I know personally) and helpful resources including onboarding emails, guides, monthly newsletters, benchmark articles, and blog articles.
By promoting HostGator, you can earn up to $100 per sign-up and get flexible commission structures and your co-branded landing pages and offers.
5. GreenGeeks.
If your users are looking for a web host that is both user-friendly (and environmentally-friendly), you should check out GreenGeeks.
Did you know your website has a carbon footprint?
GreenGeeks is trying to change that by replacing 3x the amount of energy consumed from the grid in the form of renewable energy credits.
By joining their affiliate program, you can earn up to $125 per sale based on performance and traffic levels. GreenGeeks has paid their affiliates over $3.5 million over time and offer dedicated account managers and helpful reporting tools to set you up for success.
6. WP Engine.
WP Engine has one of the highest affiliate payouts, starting at $200. They are a powerful web hosting platform and one of the premier web hosts for bloggers that write about WordPress plugins and themes.
Their program features incentives and pricing tiers. If you get five sales, you receive an extra $100. For ten purchases, you get $250. They also offer a two-tier program – you can earn $50 for any sub-affiliates you refer to their platform.
WP Engine has an industry-leading 180-day cookie duration, which gives credit for sales up to 6 months after visitors click your affiliate link.
However, the only downside is that their product is more expensive than other web hosts, so conversion rates aren't as strong.
I know many people that have managed the WP Engine program and ensure they are committed to the success of their affiliates.
7. Liquid Web.
Liquid Web runs its own affiliate program and pays its affiliates 150% of sales, which can be anywhere from $150 – $7,000 per sale.
8. Sendinblue.
Sendinblue is a platform to grow your marketing and sales with a dedicated CRM, email marketing software, landing page builder, and more.
Their affiliate program pays affiliates for both leads and sales. For example, if you refer a free user to Sendinblue, you receive 5€ and for each paying customer, you receive an additional 100€. From my experience with them, payments are made quickly and reliably via either PayPal or bank transfer.
This is the Nigerian number one web hosting service provider from as low as N7,000 Free .COM.NG Domain, 2GB Disk Space. 8GB Bandwidth. Unltd. Email & FREE SSL
WordPress, Joomla, OpenCart & Magento Ready. VIEW PACKAGE RDER NOW!
FREE .COM.NG
FREE reg. & renewals with every annual hosting package ordered!.com.ng | .net.ng | .org.ng | .i.ng | .mobi.ng | .sch.ng. Hope this is helpful.