Blogging Tips 2021 that Actually Work for me and many others in the industry.
When I started blogging, I was thinking that it is all about writing content worth reading, but how do you find readers? I've heard that blogging referred to a couple of times recently as a mixture between art and science. If this is true (and I think it is), there's no 'right way' to approach blogging if you want to be successful. There are plenty of people who've done a great job of it though, and I thought it would be useful to learn from them.
I have made several mistakes in blogging when I started and I remember what happened to Israelites in the Bible, I recalled that a journey that was supposed to take them 40 days to the promise Land actually take them 40 years due to mistakes and I don't want you to do same as I did please.
Started a blog but can't get any readers? Let's fix that. 
In this time, I've learned a lot about how to get more traffic and readers to a blog. And in this post, I'll share some of the blogging tips I wished I knew when I started.
RECENT POST
Narrow Down Your Niche 
Statista estimates that the number of bloggers in the U.S will reach 31.7 million by 2020. And that's only the U.S! what happened in others country.
Which means: if you're starting a blog today, there's a lot of competition.
Luckily, there is a way to stand out and attract readers to your blog:
Go niche.
Let's get to it.
What does that mean?
It means focusing on a hyper-specific topic and becoming the go-to expert on that topic.
For example, if you're starting a health blog, you might focus on only Anti-aging, weight loss, Skincare, etc. If you're starting a personal finance blog, you can go for investment, credit card, real estate, loans and so much more.
Later, once your blog has gained some traction, you can branch out and cover broader topics.
This is what I did at Jubass. I started out focusing solely on the Affiliate program and trying to do it better than everyone else. This helped me to kickstart my initial growth.
This idea is not just me either. Many top bloggers started the same way.
Mark Manson's blog was originally about masculinity and dating. Ramit Sethi, founder of I Will Teach You To Be Rich, started his blog by writing about the intersection of psychology and personal finance.
The lesson is clear: if you want to gain traction, niche down.
Get Ideas from Your Audience
Create blog posts that answer the most interesting questions from people you engage with on social media.

Dave Larson, founder of @tweetsmarter
This can be a great way to gather ideas of what topics people would most like to read about, which will help your blog grow! One of the best ways I've seen this in action is through blog comments or Tweets.
Write about topics people are searching for
51% of all website traffic comes from organic search. This means: for your blog to do well, you need to write about topics people are searching for.
The question is: how do you find such topics?
The answer: Use a keyword research tool to generate ideas.
For example, you can enter a keyword into AnswerThePublic—a free tool—and it'll show you related questions people are typing into Google.
Understand your audience
Understand your audience better than they understand themselves. It takes a lot of upfront research, and often means being a member of the very tribe you're trying to lead – but it pays off.

Brian Clark, founder, and CEO, Copyblogger
Understanding your audience better means you'll have a better idea of what blog content will resonate with them, which is a good start when you get to writing blog posts.
A great technique for doing this is to simply ask your readers first on Twitter, Facebook, or LinkedIn with an engaging quote. If people respond well to it then this is probably a great topic to write about.
Tackle your competitors' best-performing topics
Wouldn't it be fantastic if you could see which of your competitors' articles get the most traffic  so you could try and replicate their success?
You can.
Many blogs show off their best-performing articles, like this:
From here, it's relatively easy to figure out which keywords they're trying to rank for by looking at their URL and headline.
For example, when I click through to the article—The Ultimate Guide to Men's Hair Products—I can guess that Beardbrand is targeting the topic "men's hair products" or "hair products."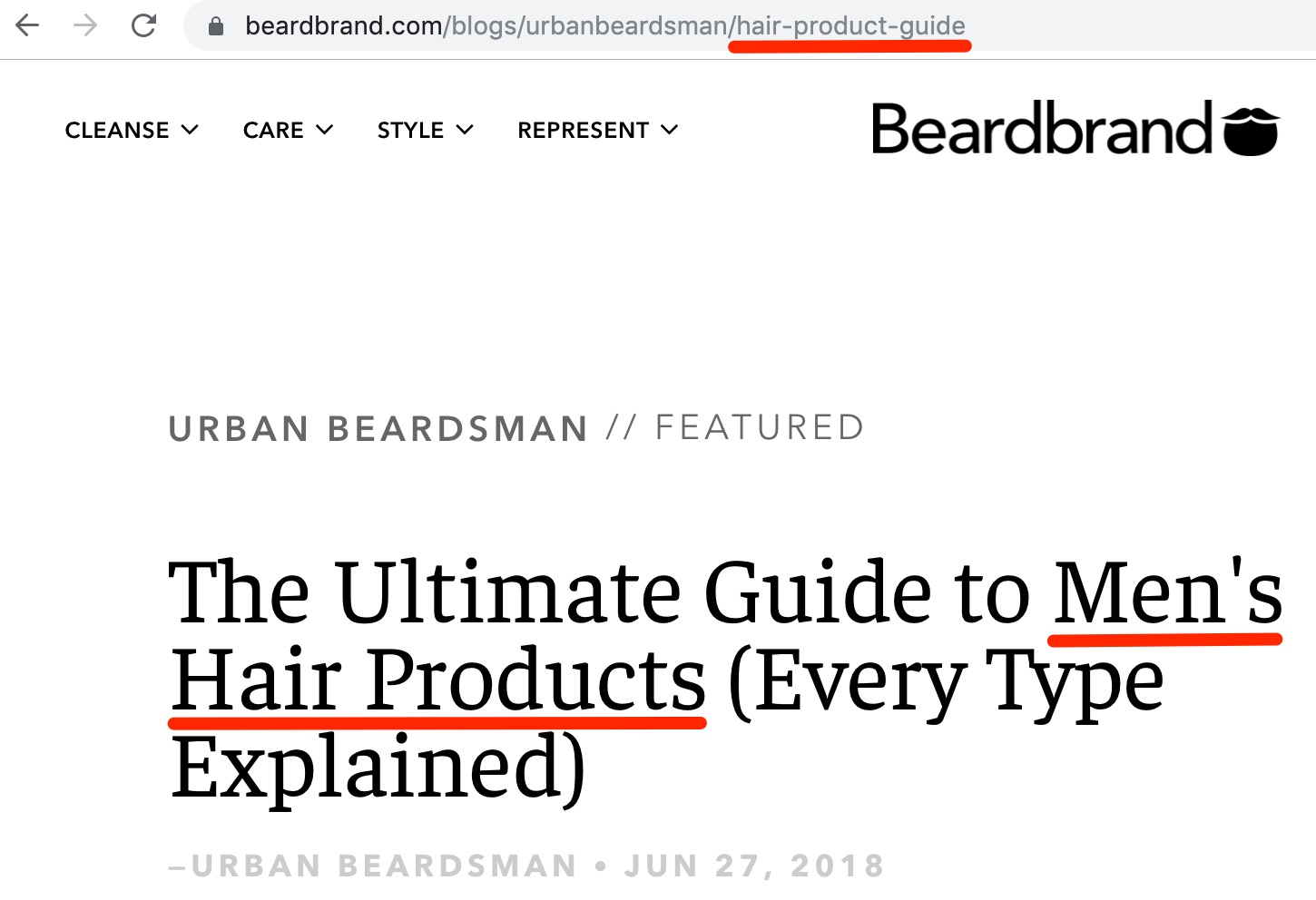 But this is not a very data-driven process. We have no idea how Beardbrand chose these "popular" posts, and we can't tell if they drive traffic.
So a better way is to paste your competitor's domain into Ahrefs' Site Explorer, then go to the "Top Pages" report to see which articles send them the most organic search traffic.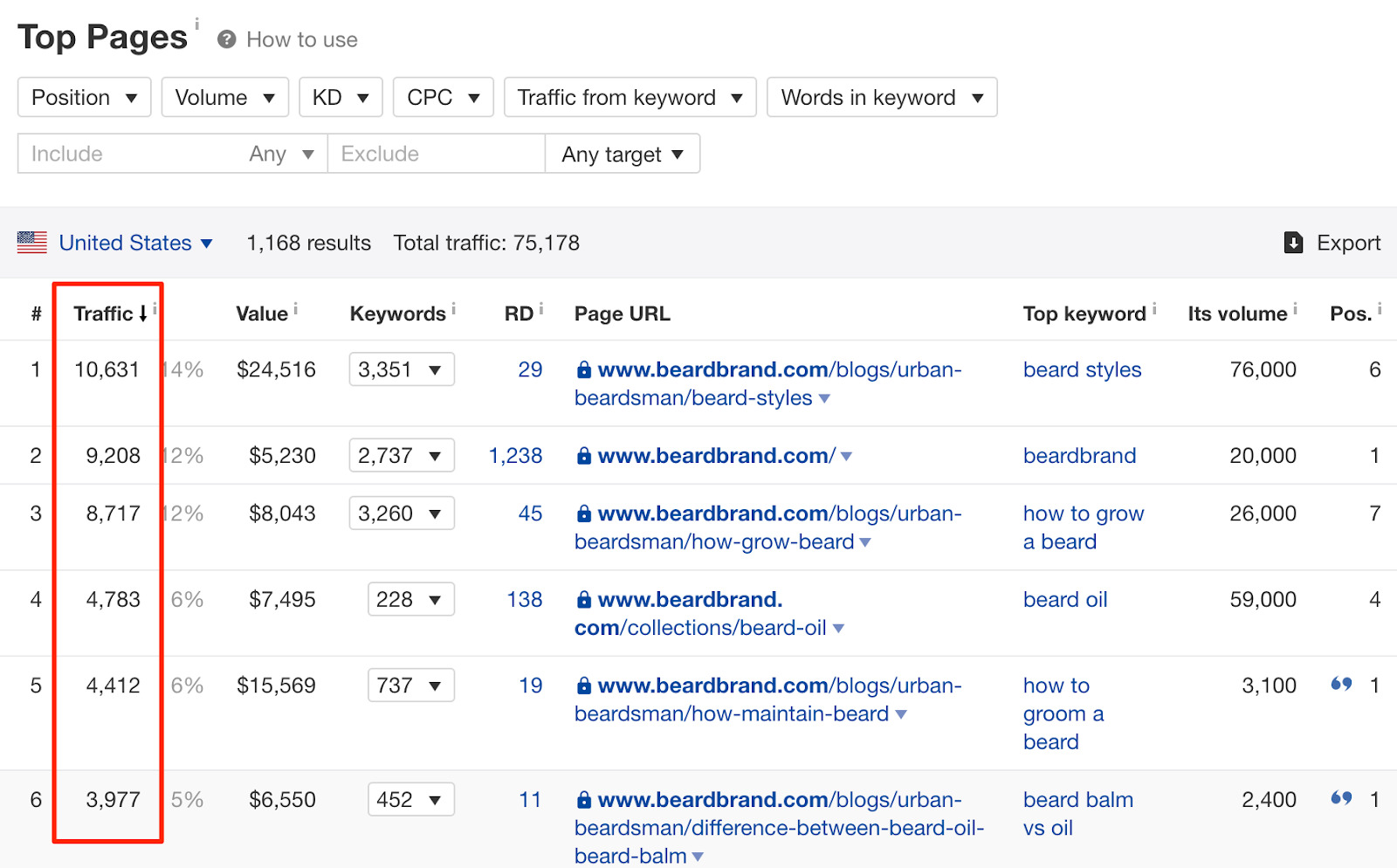 For example, we can see that Beardbrand's article on beard styles gets an estimated 8,717 organic visits per month. And out of 3,260 keywords it ranks for, "beard styles" sends them the most traffic.
This is a great way to find good topics to write about.
Be mindful of search intent
Google aims to provide its users with the most relevant results for their queries. That means: if you want to rank high in Google and get passive, organic traffic, you need to be the most relevant result for the query. 
Translation: you need to create content that aligns with search intent.
How do you figure out search intent?
Thankfully, since Google works to show the most relevant results, you can use this to your advantage. Just take a look at the top 10 results for your chosen topic, and see what types of pages are currently ranking.
For example, here are the top results for "Top 10 Websites To Download Nollywood Movies In 2021."
Compare that to "How Affiliate Marketing is the New Hotness"
You can see that most of the top-ranking pages are how-to articles How Affiliate Marketing is the New Hotness.
To rank for this keyword, you likely have to create something similar — I.E., a "how-to" guide. Create content worth referencing
Many years ago, Tim, Chief Marketing Officer Ahrefs, wrote an epic, 5,000-word article about strategic writing. He then reached out to Rand Fishkin, an influencer in the SEO/marketing niche, to let him know about it, hoping that he would share it with his audience.
Rand said no.
The reason? The post was long, but there was nothing unique about it. It was merely a rehash of existing tips on the web.

Four years later, Rand tweeted the post on podcast advertising, even though Ahrefs didn't tell him about it.
Why did he share it this time around? Simple: because they did the work, knew the ins and outs of podcast sponsorships, and could present a unique point-of-view no one else had.
In short, that article was worth referencing.
Telling you to create great content isn't actionable. But making sure your content is—in Seth Godin's words—worth remarking about is a more straightforward concept to work with.
It's also much easier to tell if you genuinely have something wonderful on your hands.
Is your article unique?
Did you present ideas, opinions, or point-of-views that nobody else has talked about?
Will people cite, quote, or link to your article?
Will people share and talk about it?
If the answer is a resounding yes, then great! If not, get back to the lab and rework it. You can always add a unique perspective by including data, running surveys, or acquiring experience.
Make your posts easy to read
Let me quote Tim here at this juncture, Tim once said:
Nobody likes to read. They just want the information. If they could download it to their brain, they would.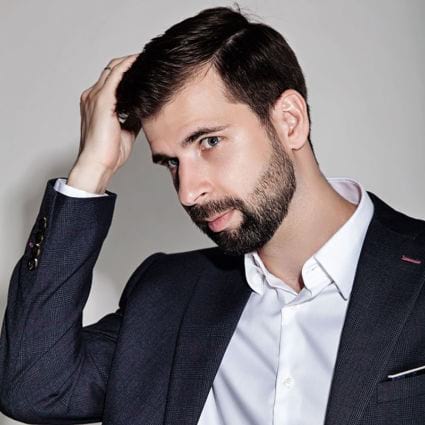 Tim Soulo, CMO Ahrefs
Real talk: nobody is clamoring to read your article. They would rather watch Netflix than read your blog post.
Therefore, it is your job as a writer to help them decide to start reading. As famous copywriter Bond Halbert said, "Good writing creates effortless reading."
To do this, you need to learn how to edit your copy so that it's easy to read.
Build your email list
Start building your email list from day one. Even if you don't plan on selling anything, having an email list allows you to promote your new content to your audience directly without worrying about search rankings, Facebook EdgeRank, or other online roadblocks in communications.
Kristi Hines, freelance writer, and professional blogger
Write amazing headlines
On average, five times as many people read the headline as read the body copy.

David Ogilvy, Author Confessions of an Advertising Man
Most people discover content via search or social. And they likely decide which to read based on the headline.
That makes the headline the most crucial piece of your content. And you should learn how to write compelling ones that capture people's attention and make them want to learn more.
However, that doesn't mean you should be writing clickbait. But it does mean that you should understand how good headlines work.
Some tips:
Check out some of the most popular blogs on the web and watch how they craft their headlines. Tim Ferriss may not brand himself as an internet marketer, but he certainly knows how to write headlines that attract readers (e.g. "From Geek to Freak: How I Gained 34 lbs. of Muscle in 4 Weeks" is an excellent headline.)
Use templates. Most headlines are variations of proven formulas. Learn what they are and use them well.
Use CoSchedule's Headline Analyzer. Unsure if you've written something good? Check with this free tool.
Write a good introduction
The headline's job is to get the reader to read the first sentence. Then, it's the job of your introduction to hook them in and get them to read the post.
So, if your introduction is lengthy, boring, or reads like an academic paper, then it's time to change up what you're doing.
First, I Align. With a sentence or two, show your readers you understand the problem they're facing.
Here's an example from one posts from Ahrefs: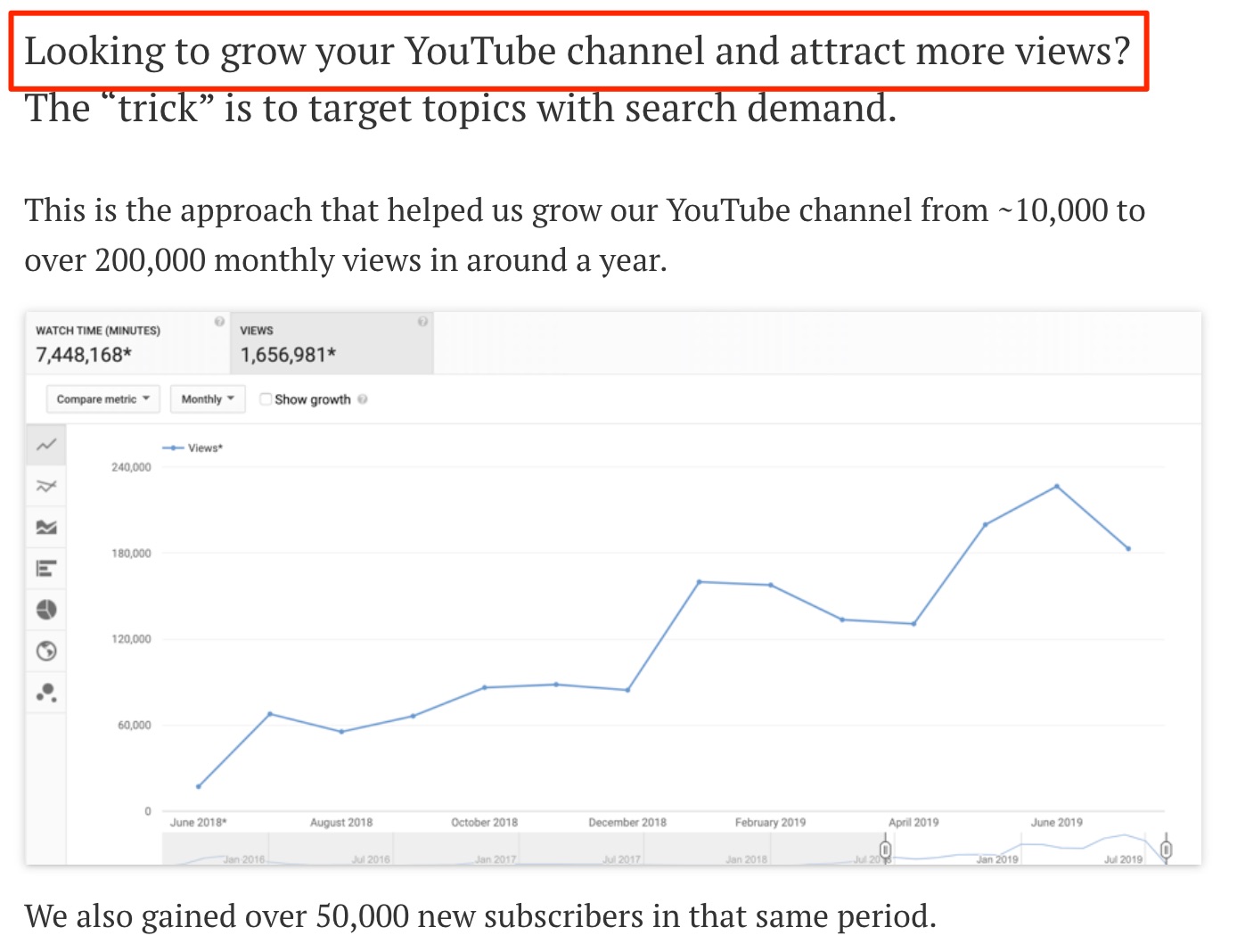 With this, your readers will feel like you empathize with them and their challenges.
Next, Present your article as the solution.
Tell them you've found the solution to that problem. Alternatively, you can also explain the solution as briefly as possible without divulging everything. Give people something to nibble on so they'll want to read further.
From the same example: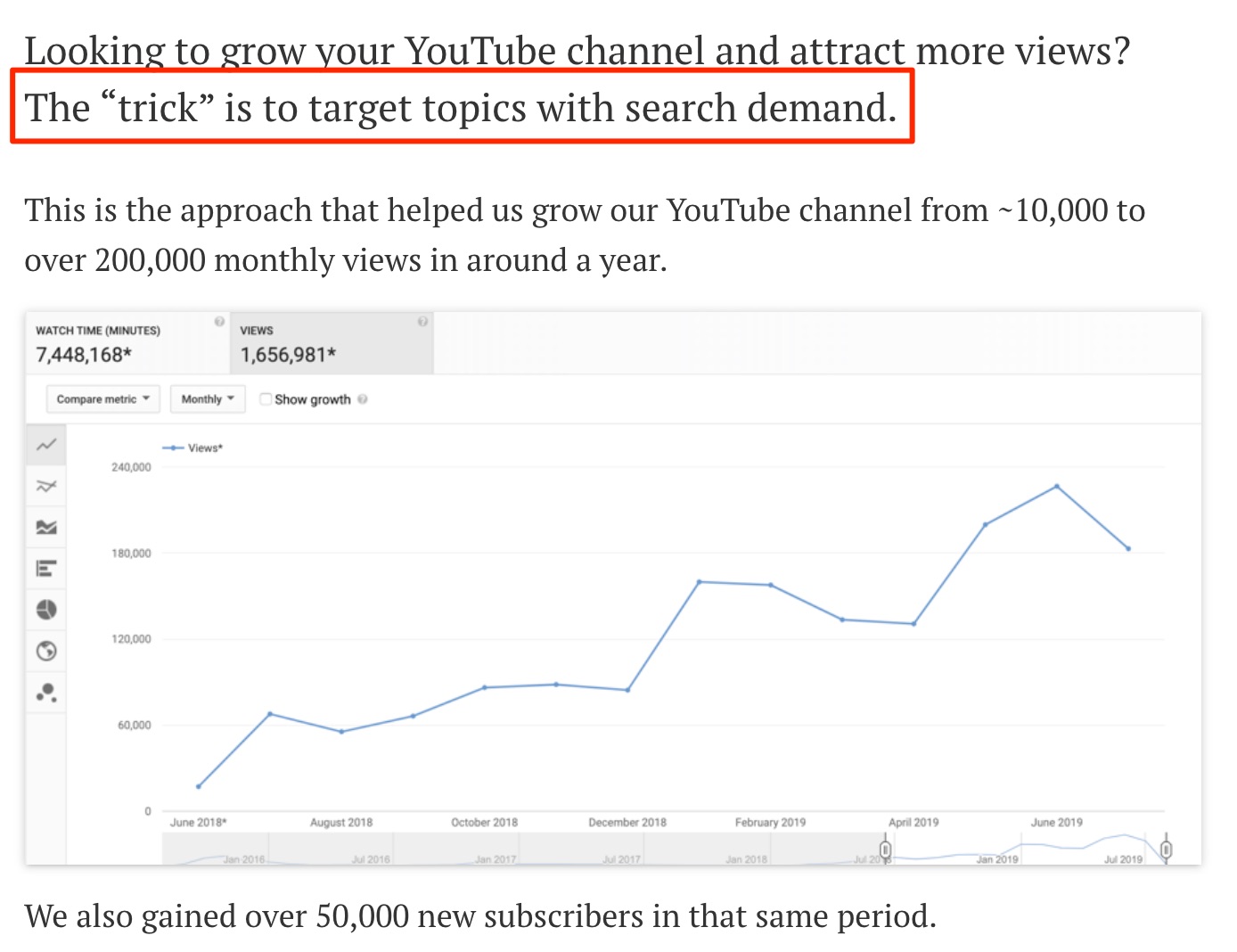 Finally, they have Proof.
This is where you explain why they should trust you. After all, it's likely the first time they've encountered your blog. You'll have to demonstrate your success, experience, or expertise.
Example: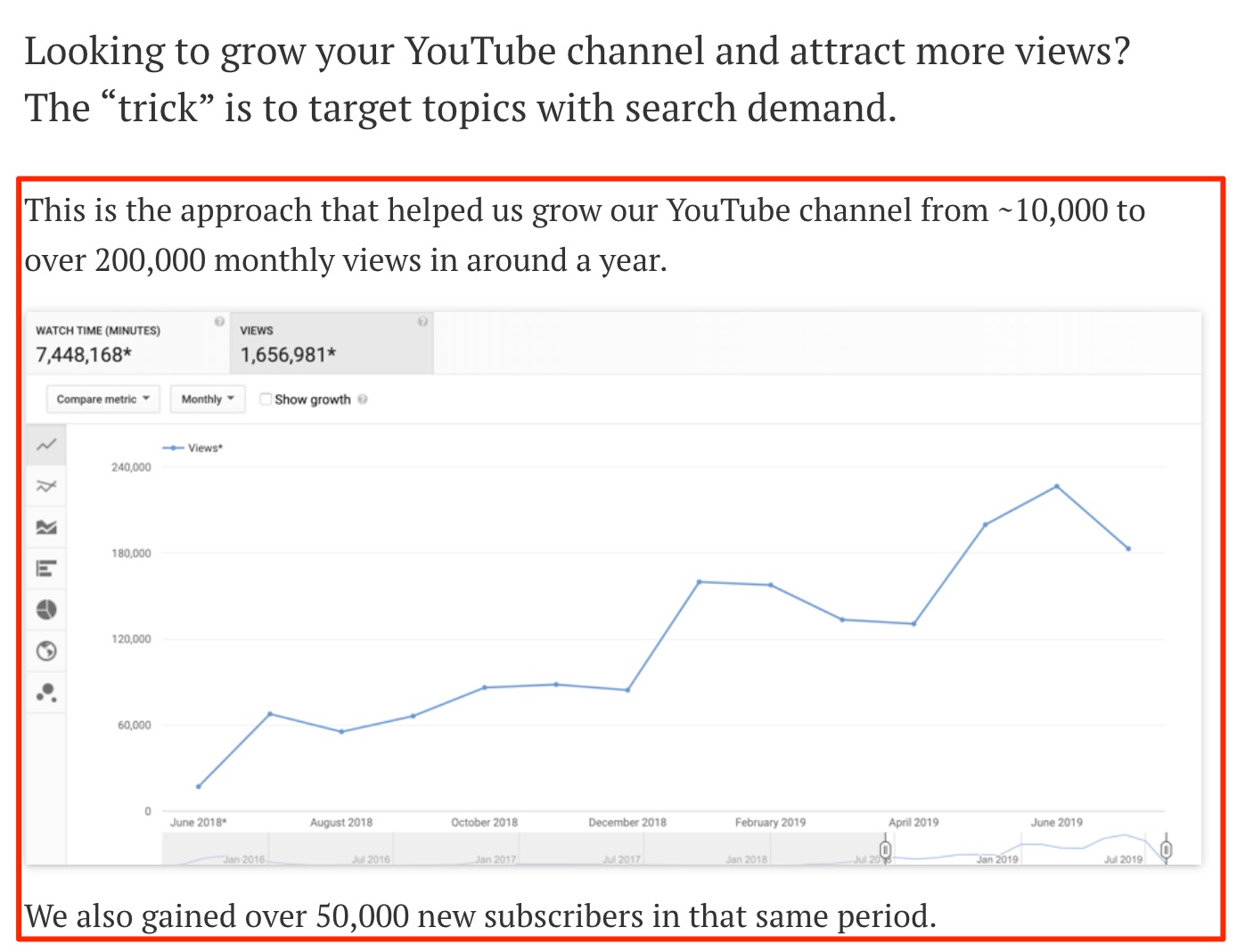 Do basic on-page SEO
On-page SEO is the practice of optimizing your content to rank higher in the search results.
Typically, this includes basic "best practices" like:
Placing your target keyword in the title, meta description, and H1 tags. This helps demonstrate to searchers that your page is the most relevant result for their query.
Using short, descriptive URLs. A descriptive URL lets you know what to expect from a page (e.g. https://jubass.com/top-12-best-blogging-niche-that-will-make-money-easily/ is obviously a post about the best blogging niche .) Searchers are almost certainly more likely to click on a result that demonstrates what they should expect from the page.
SIDENOTE. If you're a WordPress user, installing a plugin like Yoast SEO will make the above tips much easier to implement. 
But on-page SEO is about more than including exact-match keywords in your copy. The presence of related words and phrases also matters.
Google confirms this by saying:
Just think: when you search for 'dogs', you probably don't want a page with the word 'dogs' on it hundreds of times. With that in mind, algorithms assess if a page contains other relevant content beyond the keyword 'dogs' – such as pictures of dogs, videos or even a list of breeds.
The question is: how do you optimize for this?
If you're writing about something you already know a lot about, you might not have to. I mean, chances are you'll include relevant words and phrases without even trying.
Reach out to people you admire
Ever noticed how famous bloggers always know each other?
This isn't accidental.
Blogging is hard work. It's challenging to go at it alone. But with the help of others, it becomes manageable.
That's why smart bloggers reach out and form relationships with one another. They give advice, offer help, and cross-promote each other.
That's how they continue to grow day after day, year after year.
You should do the same.
The more people you know, the better your work becomes. More experienced people can offer input on your content. They can contribute insights, promote you, or link to you—and they can share your content with their followers.
Don't be daunted by their reputation or huge following. Every famous blogger you know was once a nobody. But what set them apart was their willingness to set aside their fears and ego and reach out to those before them.
These bloggers understand. They will be more than happy to help you—but only if you use the right strategies.
What are these strategies?
Promote your content in online communities
Relevant online communities are those where your target audience hangs out. They could be communities on Facebook groups, Slack, Reddit, forums, etc.
Write guest posts for other blogs
Ramit Sethi credits his guest post on Tim Ferriss's blog as one that helped to turn his book into a bestseller.
If you want to gain traction, don't just write for your blog. Leverage the authority and following of other blogs to drive traffic, links, and build your brand.
But you might be wondering: why would they let you do that?
Simple. Most popular blogs are built on great content. But creating great content consistently is tough. So, if you offer to write an awesome article for them for free, why would they say no?
Now, most people find guest blogging opportunities in the same way. They use advanced search operators like these in Google:
[your_topic] "write for us"
[your_topic] "guest post"
[your_topic] "guest article"
[your_topic] "become an author"
[your_topic] inurl:contribute
These will surface blogs that are actively looking for contributors.
However, you shouldn't only pitch sites with "write for us" pages.
If a blog has written about relevant topics before, they're likely open to guest posts on similar topics—even if they don't have a "write for us" page.
To find these sites, enter a relevant word or phrase into Content Explorer, then toggle the "one article per domain" switch to avoid contacting the same sites twice.
Update older content
As you progress along your blogging journey, your thoughts, opinions, and knowledge will change. You'll find out more about your industry, learn new things, and improve your writing style.
You'd be doing your audience a disservice if you do not update your older content to reflect your newfound knowledge and ideas.
Plus, updating your content has an SEO benefit too.
Think about it: even if you rank #1, competitors may try to fight for the top spot. Or Google may "demote" your rankings because it thinks your content is outdated.
So, you should aim to keep your content fresh and up-to-date.
Often, this happens because parts of your content become outdated (e.g., screenshots, process, stats, links, year in the title, etc.)
The solution then is to refresh the outdated sections. However, in some instances, you might find that you need to do a full rewrite of the article (again, this is something we often do.)
Write every day
How did James Clear become one of the world's most famous bloggers, and subsequently a bestselling author?
Practice.
For four years, he committed to publishing one article on Monday and Thursday every week. This process honed his writing skills, popularized his blog, and eventually landed him a book deal that became Atomic Habits.
After all, it's no secret. Blogging IS writing.
But to write well, you have to practice frequently.
It doesn't have to be anything spectacular. Just focus on building a habit of putting pen to paper daily. It need not be a blog post—it could be a Facebook update, tweet, blog comment, email, or something else.
Give stuff away
Give away free content that adds value to people's lives "until it hurts" and they will love you and become loyal fans.

Jeff Bullas, blogger and author of Blogging the Smart Way
A great example of this is the research done by Incentivibe, who found that adding a giveaway contest pop-up to the bottom-right of their website led to 125% more email subscribers.
Give away your knowledge
Don't be afraid to showcase what you know. Too many bloggers hold back the good stuff out of fear of giving away the "secret sauce." There is no secret sauce in a world where everyone has high speed Internet access at all times. Today, you want to give away information snacks to sell knowledge meals.
Jay's advice is to share the knowledge you have, rather than keeping it tucked away for a rainy day. Chris Guillebeau follows this advice by offering two free, downloadable PDFs to his readers. Chris also does what Jay calls giving away "information snacks to sell knowledge meals." On both of the free PDF download pages, Chris markets his book on the right-hand side.
Give it time – This is why
Plan to invest in blogging for a long time before you see a return. The web is a big, noisy place and unless you're willing to invest more over a greater period of time than others, you'll find success nearly impossible. If you're seeking short-term ROI, or a quick path to recognition, blogging is the wrong path. But if you can stick it out for years without results and constantly learn, iterate, and improve, you can achieve something remarkable.

Rand Fishkin, CEO of Moz
Rand shared these great images with us from his wife's travel blog, Everywhereist, which shows just how long it can take to see a return on your efforts:
GET A COPY OF THIS BOOK TO GET YOU STARTED
Conclusion
I'm sure there are lots more great tips out there about building a blog. What's your favorite?
Now, all you have to do is to implement these blogging tips and get to work. Hope this help?